Forest*Light*Ecstasy photography show
This summer solstice join a small community of good people at Soul Strength Yoga & Fitness for wine, cheese, a photography show by Leroy Schulz and an outdoor concert by F&M.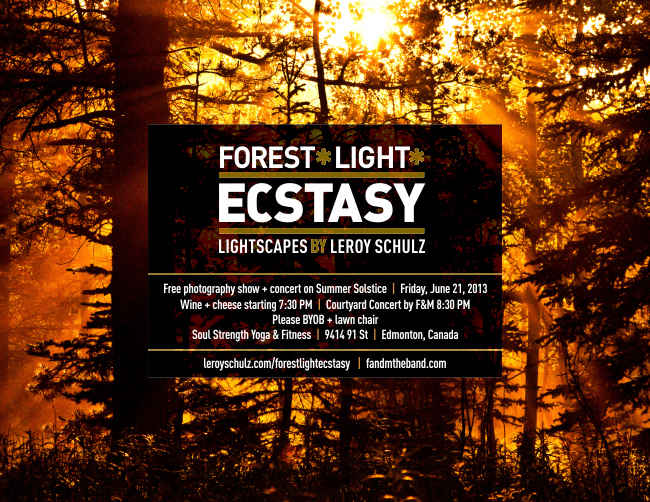 What:
Photography show by Leroy Schulz
Outdoor courtyard concert by
F&M
Where:
Soul Strength Yoga & Fitness
9414 91 St (top of the Folk Festival hill)
When:
Friday, June 21, 2013 (Summer Solstice)
Wine & cheese at 7:30 PM, F&M concert at 8:30 PM.
Who:
You and your friends.
Cost:
Free but ** PLEASE BYOB + A LAWN CHAIR **.
CDs and artwork will be available for sale.
Forest*Light*Ecstasy is the third and final show of a series of photography shows at Soul Strength in which I explore through my artwork the emotion caused by the natural world.
I'm very happy to have the uber-talented F&M, composed of Ryan Christian Anderson, Rebecca Anderson and Bryan Miot Reichert performing in the studio courtyard (weather permitting). More about them below.
F&M is a popular baroque pop band known for heartfelt performances and sophisticated style – touring much of Canada over the past five and half years, and even dipping into Europe. Ryan is primarily self-taught and often takes the social lead, with his engaging personality both on and off stage. He uses his lyricism, guitar and distinctive baritone voice to draw the audience into the world of F&M. Rebecca acquired formal music training at both King's University College and the U of A, but is mainly self-taught in a variety of instruments. She has a Masters in Soviet Russian Rock Music Culture and will be making her debut in Edmonton Opera Chorus this fall. Bryan Reichert, in addition to a background in classical violin, is a graduate of Grant MacEwan University and has been a freelance music professional for more than 20 years. Highlights for F&M are: 2010 album "Sincerely, F&M" took the #1 position on Exclaim's Folk Chart for 6 weeks (charting for 4 months in 2010/11); finalists in the Calgary Folk Fest's Songwriting Competition (2011 and 2012); F&M's version of "Littlest Hobo" is in the major hit movie "Goon" (2012); F&M was a featured performer for The 2012 Edmonton Opera's Storm the Stage; this spring F&M released a Russian influenced EP which The Edmonton Journal described as "intoxicating." Currently, F&M is working on another full length release for late 2013 /early 2014. The Montreal Mirror states: "Their boxing gloves may be made of velvet (thick, crushed velvet at that), but this trio will punch you."
Website: http://www.fandmtheband.com/
Bandcamp: http://fandmtheband.bandcamp.com/
Facebook: https://www.facebook.com/fandmtheband
Twitter: https://twitter.com/FandMtheband
YouTube: http://www.youtube.com/user/FandMmusic
To see what the last show and concert looked like, see http://www.leroyschulz.com/2014/news/waves-flow-elation-photography-show/.
PDF poster at http://www.leroyschulz.com/shows/LeroySchulzForestLightEcstasy.pdf.
Special thanks to Melany James of Soul Strength Yoga & Fitness for this opportunity.
About Forest~Light~Ecstasy
What moves you? What takes your breath away? What transcends the familiar radius of day to day life and connects you with the notion of timelessness or eternity?
We each have our answers to those questions. My answers are ones that I discovered in my early 20s in the peaks and hills and crags and lakes and forests of the Canadian Rockies.
I found in the natural world something that stands in stark contrast to the machinations of the built world — a sense of deep connection, temporal lastingness and, frequently, untainted emotion.
Forest*Light*Ecstasy completes a trio of photography shows which began with my Rock+Sky+Euphoria show in October 2010 and continued with the Waves~Flow~Elation show in September 2012. With all three shows I looked to translate how the natural world stirs up and releases emotion within us and explore the relationship between the external and the internal worlds.
Where Rock+Sky+Euphoria focused on the panoramas of mountain environs and Waves~Flow~Elation centred on bodies of water in the landscape, Forest*Light*Ecstasy explores the fusion of light with the forest world and, again, the internal reactions that fusion prompts.
For a recap of the Waves~Flow~Elation show see http://www.leroyschulz.com/2014/news/waves-flow-elation-photography-show/.