One of my photos for Alberta Tourism in Vue Weekly
Over the last few years I've had the pleasure of doing a number of photo shoots for Alberta Tourism, Parks and Recreation, the ministry for the Province of Alberta that handles provincial parks, tourism, sport and recreation. Photos that I shoot for them are entered into an image bank which is made available to provincial government departments and associated partners.
Since the photos I shoot for them aren't normally geared for specific campaigns from the onset, I don't always know when the images are used. Once in a while I come across one of my photos in use.
That happened just last week as I was flipping through the May 15-22, 2013 issue of Vue Weekly, a popular Edmonton weekly newspaper. The Roadtrip Issue insert contains an ad by the Town of Hinton and Yellowhead County in partnership with Travel Alberta.
I shot the photo that you see above on the way to the Cardinal Divide outside the hamlet of Cadomin, Alberta. Below is how it appears in the ad.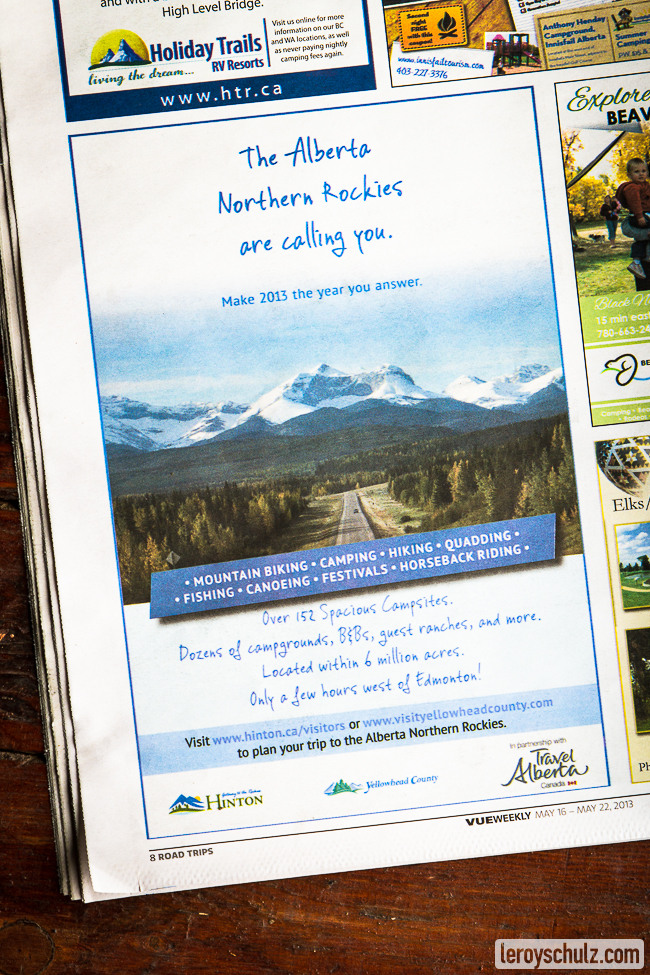 If you're a fan of the landscape of Jasper National Park, I recommend a visit to Hinton, Cadomin and the Cardinal Divide. It's rugged, beautiful and through-and-through Albertan.