One Second From Paris Photography Show at Sugarbowl Cafe
You are cordially invited to stop by The Sugarbowl Café, centrally located in the university area in Edmonton (right at the south end of the High Level Bridge), for my latest photography exhibition. One Second From Paris features black and white streetscapes from a trip in 2007. Come and enjoy a meal, a coffee, or a mightier beverage among the din and artful brick walls of Sugarbowl.







An opening reception will be held on Monday, April 7, 2014 from 5:30-10:00 PM. Everyone is welcome!

---
What:
One Second From Paris
Photography Show by Leroy Schulz
Where:
When:
April 1-30, 2014
Opening Reception: April 7, 2014, 5:30-10:00 PM
Who:
You and your friends.
Everyone is welcome!
---
About One Second From Paris
Paris.
For the early 20's me, discovering adult life, it was a magical, imaginary, immaculate, far-away city of dreams. Less so a real, tangible city and more so a sparkling notion of artful, bohemian perfection built on the second-hand experience of books, photography, music, film, art and exotic stories shared by vagabond friends. It remained so for years — a ripe, colourful fruit dangling just beyond my reach.
And then, in 2007, I visited Paris.
Those were seven nearly-manic days of walking the streets, visiting galleries, cafes and restaurants, drinking wine, eating cheese and baguettes and rendezvousing with friends from Canada and France.
I discovered that the magical world of Henry Miller and Henri Cartier-Bresson and Robert Doisneau and Celine and Brassai wasn't just imaginary. It was informed and real and I gorged on it.
What you see hanging on these walls was my Paris. If you have had the fortune of visiting this fabled city, I hope they help you relive your experience; if you haven't yet visited, I hope these pieces add a new sheen to your Paris mandate.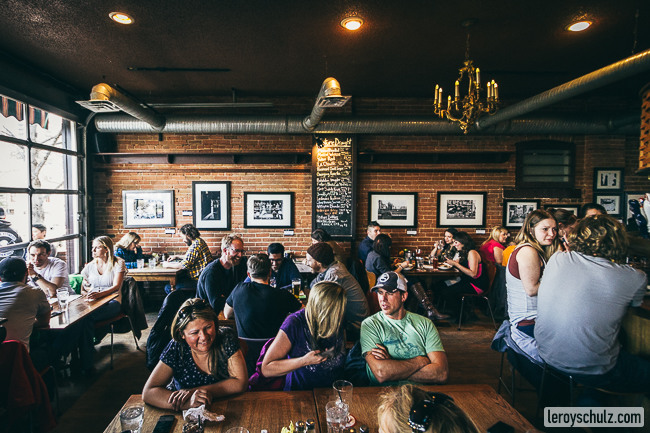 Why One Second From Paris?
French photographer Robert Doisneau was one of four or five pieces of kindling that sparked my interest in photography. In his book Thirty Seconds From Eternity, Doisneau reflected on the important photographs from his career and estimated that the sum total of exposure represented about 30 seconds of life — 1/250th, 1/125th or 1/50th or other fractions of a second at a time.
The pieces that form the collection you see here are revisited versions of a show of the same name in 2007 at the now-defunct Hulbert's Coffee House in Edmonton. Over thirty pieces were part of that show. The name One Second from Paris was a tip of the hat to Doisneau, a summation of the exposure times of the photographs I included. The range of shutter speeds started at 1/1600th of a second and went as long as 1/8th of a second. In total they represent just under 1 second of exposure time.
That's what I took away from my Paris experience. Less than one second of living through impulse and art and feeling and focus.
One immeasurably momentus second from Paris.



---
Did you know?
The Eiffel Tower is celebrating the 125th anniversary of its opening on March 31, 1889.

---
Does art repeat?
Keen viewers of the wonderful 2006 anthology film Paris, je t'aime may notice that the Faubourg Saint-Denis segment contains a scene very similar to one of the pieces in my One Second From Paris collection.
Here's a screen capture from the scene in the movie (© 2006 Canal + Group):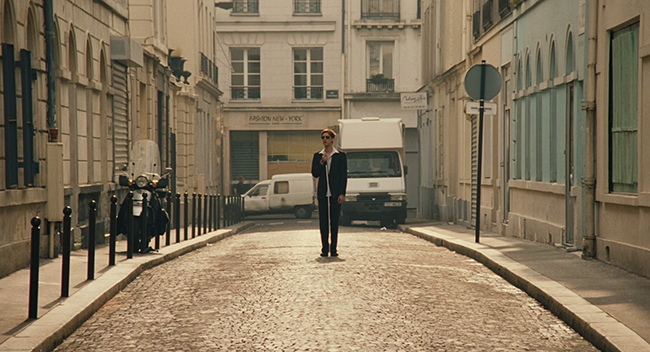 And here's my New York Fashion Photographer photograph, taken on the very same, random, out-of-the-way street:
What identifies the street beyond doubt is the "Fashion New York" sign that's visible in the the background in both the film and on large prints of my photo.
If you haven't watched Paris, je t'aime, I highly recommend it! It's a beautiful, engaging, whimsical portrayal of the hive of ongoing stories that make up Paris. Click here for the film's IMDB page.
A tip of the French beret goes out to Alyssa L. for recommending the film.